iPod 3rd Party repair issues. Be warned
As with all mobile products from Apple, my iPod does not have a user-replaceable battery (at least officially). But apparently it's not replaceable by my local Apple dealer, either. The technician there had difficulty getting the case apart — and putting it back together.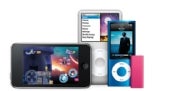 I now have a new battery, but the device as returned to me has a gap between the black plastic top layer of the iPod and the chrome case underneath that's big enough to insert my fingernail into.
I was lucky, the tech said, that I had an older unit — newer models can only be serviced by Apple authorized service centers. But occasionally, some units like mine get stuck together so tightly that they don't come apart easily. With my unit, "It was like it was fused together," the tech said. It appears that she was careful prying it apart. The only sign of the struggle are two barely noticeable rows of tiny pin marks — a total of 15 almost microscopic pocks that run along the edges of the metal case.
But once apart, my unit refused to snap back together properly. So now I have a unit that's tightly fastened along the top and bottom but has a small gap extending down both sides. Not good, especially for a unit that goes to the gym, where moisture could kill it.
At this point, after spending $50 for the battery, I feel that I have no choice but to return it to Apple to fix the case. That will set me back
either $59 or $129
, depending on whether Apple classifies the work as a battery replacement or a repair.
I don't know what to think at this point.
On the one hand I'm feeling a bit foolish about my recent decision to
bypass the Apple store and buy services from my local dealer.
On the other, this tech works on hundreds of Apple devices, and I am sure she was being truthful when she said that every once in a while she gets one that just won't open — and won't snap shut again. Certainly I'm glad that I didn't buy one of those do-it-yourself iPod battery replacement kits online.
But the experience leaves a bad taste in my mouth for another reason.
I love the sleek design of my iPod. I appreciate the fact that at the time my iPod was designed Apple broke new ground by designing a battery that could fit into such a tiny device. But I have to wonder why a company that can design the iPad and MacBook Air can't figure out how to create a device with a user-serviceable battery — something the watch industry mastered decades ago.
Then again, there are probably well over 200 million iPods and 100 million iPhones out there that are still in use , all of which will need batteries replaced every two or three years. Multiply $59 by 300 million units and you get some idea of why Apple is unlikely to walk away from this model any time soon.published by pcworld
Uploaded by Niall Mulrine, Pc Clean, Navenny, Ballybofey, Co. Donegal, Ireland
Computer, Printer and Networks solutions and repairs.
www.pclean.ie
mob: 086-2377033 begin_of_the_skype_highlighting 086-2377033 end_of_the_skype_highlighting
sales@pcclean.ie