Skype add-on is banned on Firefox, as it causes Firefox crashes too many times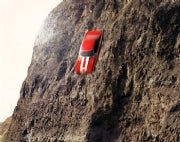 Mozilla yesterday blocked a Skype add-on for Firefox, saying it caused more then 40,000 crashes of the browser last week and seriously slowed page loading.
One Mozilla manager called Skype a "repeat offender" when recommending that the company blacklist the add-on.
Skype Toolbar, a Firefox extension bundled with the popular phone calling application, has been added to Mozilla's list of banned add-ons, said Mozilla in a blog post Thursday.
"The current shipping version of the Skype Toolbar is one of the top crashers of Mozilla Firefox 3.6.13, and was involved in almost 40,000 crashes of Firefox last week," said Mozilla. "Additionally, depending on the version of the Skype Toolbar you're using, the methods it uses to detect and re-render phone numbers can … drastically affect the page rendering times of a large percentage of Web content."
Firefox users can still use the Skype Toolbar, as Mozilla has only "soft-blocked" it, meaning that although it has disabled the add-on, users can re-enable the extension after clicking through a warning message.
Mozilla, however, is considering "hard blocking" the add-on, according to a message on Bugzilla, the company's bug- and change-tracking database. That move would completely bar the Toolbar.
The Skype Toolbar detects phone numbers embedded in Web pages, then makes those numbers clickable so users can more easily dial with the Skype desktop program. The Firefox add-on is installed by default when the desktop version of the voice over Internet Protocol (VoIP) software is installed or updated.
Mozilla said it had trouble reaching Skype's extension developers, one of the reasons it cited for blocking the add-on.
"Over the past two weeks we've doubled our efforts to contact the Skype extension team and several people at Skype have told us they pinged the extension team for us," said Justin Scott, Mozilla's add-ons product manager, in a comment on Bugzilla Wednesday. "We did not receive a response from them until this afternoon."
Skype declined to comment on the communications problem that Scott and others described on Bugzilla.
"Given the volume of crashes, the extent of the performance impact, the fact that users don't actually choose to install this add-on, and the extension team's lack of response during the weeks we were giving them to solve these issues, we should continue as planned to soft-block all versions of Skype in all versions of Firefox immediately," Scott said two days ago.
The Skype Toolbar has given Firefox users fits before. In 2008, a Bugzilla entry accused the add-on of causing the browser to hang, repeatedly reload pages and break links to PDF documents. After investigating, Mozilla added an older version of the extension to the Firefox blocklist.
In the 2008 Bugzilla thread, a Skype product manager first claimed that the problems had been fixed, then promised to address the flaws. "We will start looking into the problem and we promise to fix it asap," said Peter Kalmstroem of Skype.
Today, Skype again said that the newest version of its software would install a bug-free version of the toolbar. "Based on our initial investigation, we know that downloading the new client will fix any compatibility issues for most users," said a Skype spokesman.
"We are working with Mozilla to ensure that there are no other compatibility issues and to optimize the Skype Toolbar for Firefox," the spokesman continued. "We are sorry for any inconvenience this has caused our users."
Mozilla has used the Firefox blocklist before to disable rogue or malware-infected add-ons, most recently in June 2010 when it barred a password-stealing extension that had slipped through its quality checks and made it into the browser's library.
The blocking of Skype Toolbar, however, appears to be the first time that Mozilla has blacklisted all versions of a legitimate add-on.
One Firefox developer defended the move by arguing that the toolbar's performance problem "undoes years of work that we've put in."
Kev Needham, Mozilla's distribution channel manager, used stronger words. "We've had past problems, and I think it's fair to say Skype qualifies as a repeat offender," Needham said in a Bugzilla entry last month.
created by PCWorld uploaded by Niall Mulrine, Pc Clean, Navenny, Ballybofey, Co. Donegal, Ireland
www.pcclean.ie
sales@pcclean.ie
086-2377033
Pc Clean for Computer repairs, Laptop Repairs, Virus repair and removal service, callout services, network issues, printer problems in the Donegal Area. Computer Training, Social network for your business, online marketing,